January 10th, 2011
Tripawds is a user-supported community. Thank you for your support!
Although your awesome pawrents are mourning their loss, I am here, Fortis and Mackenzie, to welcome you to a special place. It is a place where we can play, swim, sleep in the sun and do whatever we please. We have no pain. We have no earthly bounds.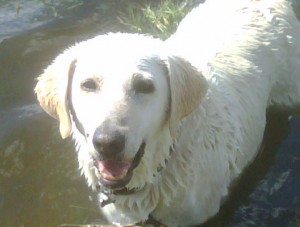 I came before you but I have been watching for you. My Mum held both of you in a special place in her heart and asked me to greet you and show you around. We can stay here and look over our loved ones, share their good times, and provide spiritual support when they need it. Then, eventually, they will come to be with us and we will all be reunited for eternity. So welcome dear Fortis and Mackenzie, you have been great warriors in the fight, you have earned your rest. But don't rest for too long, we have squirrels to chase and pools to swim in.